22nd-28th October 2018
This is the second #HCChaplainsWeek. As part of #HCChaplainsweek we want to showcase the fantastic work undertaken by the healthcare chaplains. We are very grateful to the team at Newcastle upon Tyne NHS Foundation Trust for detailing their activities over 24 hours.
'A day in the lives of a Chaplaincy Team'
Background
Our department is currently made up of four whole time and two part-time chaplains supported by volunteers and honorary chaplains from across the faith communities. We are one the largest NHS trusts in the UK. These are our activities over a 24 hour period;
08:00
Although the working day begins at 08:30, today the lead Chaplain has begun the day with a committee meeting. This is the Trust's monthly New Interventional Procedure Committee which is responsible for looking at new interventions and procedures that clinicians would like to start to use, to ensure that they are safe and have the correct governance in place prior to Trust approval. He then stays to attend the Trust Clinical Effectiveness, Audit and Guidance Committee another Governance committee of the Trust responsible for patient safety and quality.
08:30
One of our chaplains attends the Crematorium for the monthly Fetal cremation service which the hospital chaplains conduct. Families who have suffered a loss pre-24 weeks are offered either a cremation with or without a service. The number of attendees can vary with each service.
Onsite at the Royal Victoria Infirmary (RVI), two chaplains are delivering the yellow sheets to the wards. Yellow sheets enable staff to ask patients if they would like to see a chaplain or come to chapel on a Sunday. They are distributed and collectedly at both sites weekly; this also ensures that nearly every ward in the trust is visited at least twice a week by a chaplain providing support and a presence to the staff.
10:00
The chaplain returns from the crematorium to check emails and any overnight referrals, including email alerts about patients believed to be dying. Upon receipt of alerts the site chaplain will attend the ward and ascertain if it appropriate to visit the patient/relatives to offer support; from prayers to overnight bags, car parking and phone chargers.
10:30 – 12:00
Routine visiting takes place on both sites to those who have asked for visits from a chaplain or who have been referred into the service by members of the Multi-Disciplinary Teams (MDTs), relatives or faith communities.
11:00
The lead chaplain is now at the Freeman, conducting an independent assessment in line with the Human Tissue Act meeting with a couple who are being prepared for a known live kidney transplant. The meeting is a legal requirement to ascertain that they have been prepared in line with the requirements of the Act and to ensure that there is no coercion or financial incentive affecting the donor's ability to give consent.
11:00, 13:00 & 14:00
Members of the team undertake escort visits to the chapel of rest. These are for relatives wishing to see deceased patients and a police visit with relatives so that a formal identification can be made. Newcastle has no city mortuary so any coroner's cases, fatal Road Traffic Collisions (RTCs), sudden deaths will come to the RVI and it is always a chaplain who provides the escort.
12:30 – 14:00
The team attend a session organised by our BAME Staff network, of which chaplains are a member, marking Black History month. "25 Years after Stephen Lawrence: Challenges and reflections for minority ethnic people working in England."
14:30
A request from a ward for clothing so that a patient can be discharged is received and dealt. Our team runs a clothing bank which can be drawn on by staff across the trust for their patients. In addition, we have wash kits, phone chargers, are foodbank voucher providers and referrers for Streetpaws and the Cinnamon Trust.
15:00
We receive a visit from a mum of a stillborn baby that one of the team blessed last year. Mum was in for an appointment and found it comforting to come and see a chaplain before going up to the clinic.
Simultaneously another chaplain is preparing and writing a funeral for a baby, that they will be conducting the service for on Friday, having baptised the little one.
Another chaplain is following up on the email alerts that have come in during the day after ward rounds have been conducted and taking the opportunity to see families of our longer stay patients , to offer them support and fellowship during visiting hours.
16:00
The team head back to the various offices to put their visits onto the database, fill in diaries, write the follow up list for the morning and to brief the team member who will be staying on overnight as the on-call.
16:30
Home time for some…
One chaplain is now on-call until 08:30 tomorrow, with a 2ndon-call standing by to assist.
The lead Chaplain attends the Clinical Ethics meeting which is scheduled to finish at 19:30.  This is a multi-disciplinary advisory committee of the Trust board, to which clinicians can bring areas of their work for an ethical opinion. Today they are looking at issues of confidentiality and consent in a particularly complex clinical case.
16:45
The 1st on call is contacted to support senior nursing staff as news has just broken of the death of a very well-known and respected nurse in the Trust. The 1st on-call chaplain, returns to site, spends time with staff, while they ring round the team. Organises a book of condolence (held on stock in the chaplaincy office) to be placed in the chapel immediately with a photograph of the staff member.
18:30
The 1st on-call goes home.
19:30
The 1st on-call takes a phone call at home with a request for advice about a Muslim patient. Phones for assistance from the Imam, calls back the ward to ensure that they will be happy to allow the Imam to come in out of visiting hours that night.
23:20
A phone call is received via switchboard from a ward requesting support to a patient whose relative is very unwell on another ward. Attend the ward, receive a briefing, go and sit with the patient-relative and talk about their relative with them and to the patient. About 00:40 able to reassure patient-relative that it is ok to leave and go back to their ward and get some rest and that the nursing staff will call for her (and the chaplain) should there be any change. Return patient-relative to ward, say a night prayer with her at her request, before delivering hot chocolate to her!
01:30
The 1st on-call returns to bed
03:00
Another phone call is received from the ward to say the patient is unwell, they wanted us to know in case they needed the chaplain back in
04:15
The ward phone to ask for the chaplain to return to the ward so that they patient-relative can be woken on her ward and brought to the bedside.
04:30
The chaplain attends the ward, sits with the patient-relative as the patient dies. Prayers are said by request. The chaplain sits it with the patient – relative until 06:00 when she feels she would like to go back to her ward and leave her relative for the last time. The patient –relative is escorted back to the ward, ensure her nursing staff are fully briefed about the care after death needs.
06:30
The on-call chaplain returns home, washes, eats and gets children up for school.
07:30
The same chaplain arrives at the unit that had a member of staff die yesterday, to be there when staff arrive for work and to be present among them as they walk into the clinical area for the first time following the news.
08:30
Another day shift begins by briefing the colleague taking over the on-call duty. Check emails and referrals from overnight and write up the night's visits and call outs.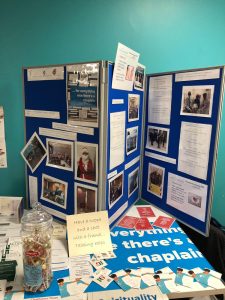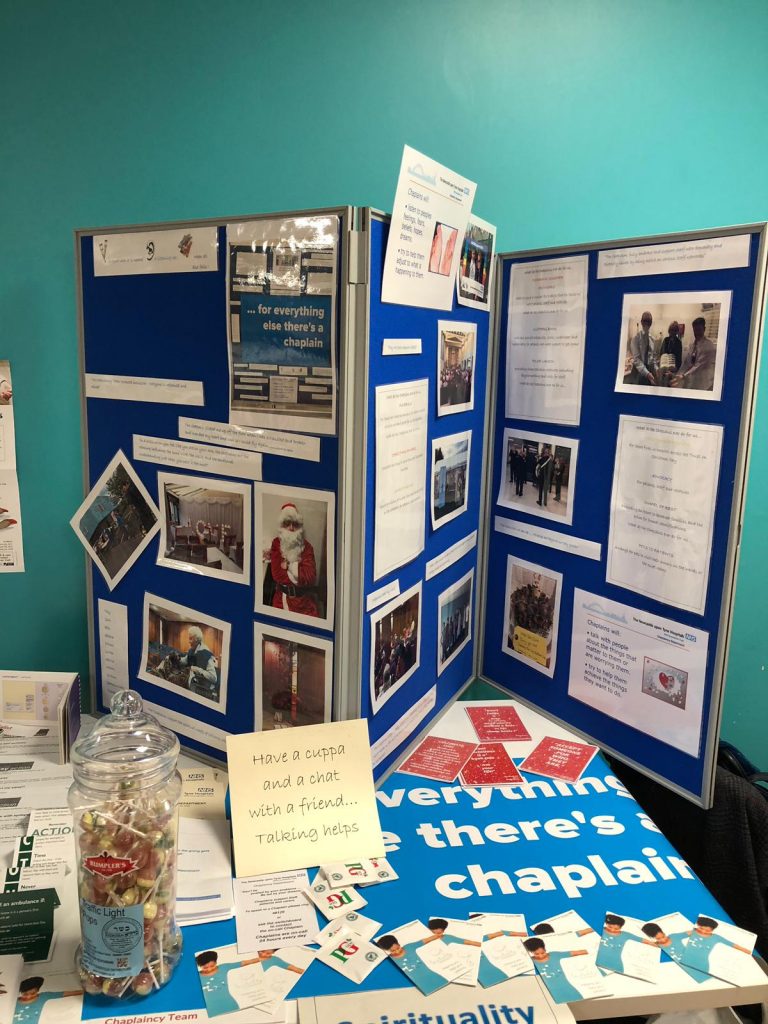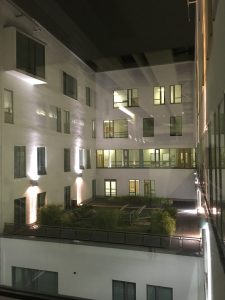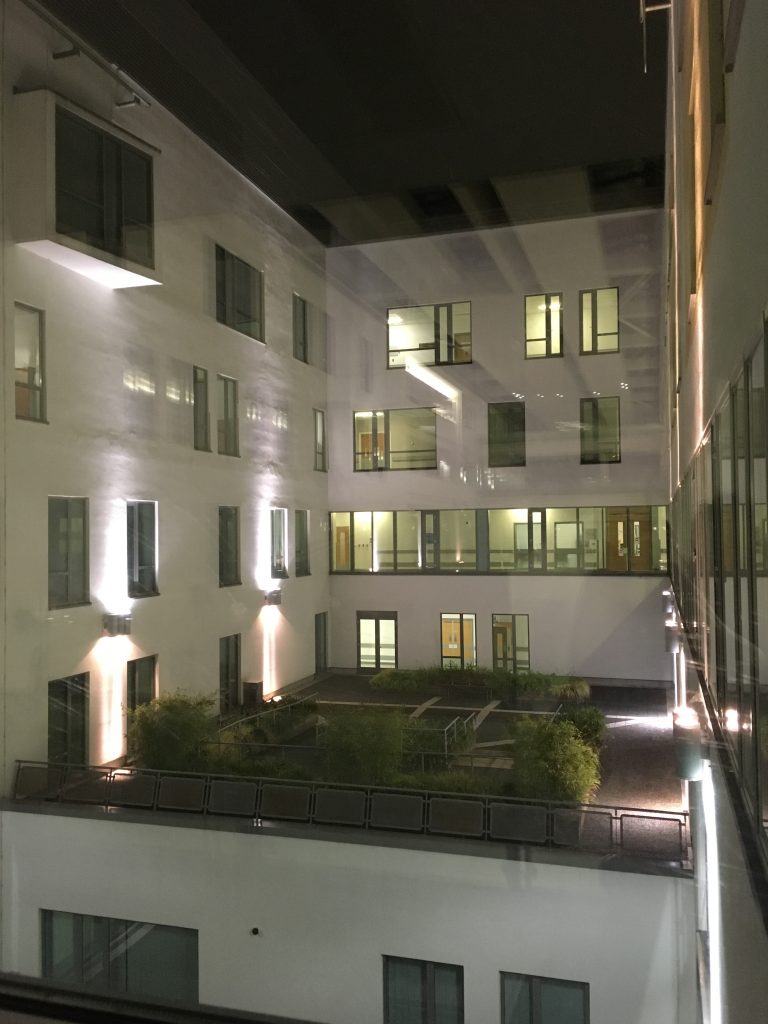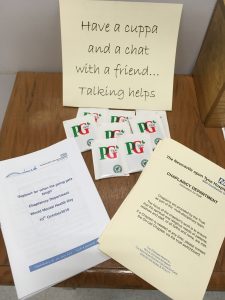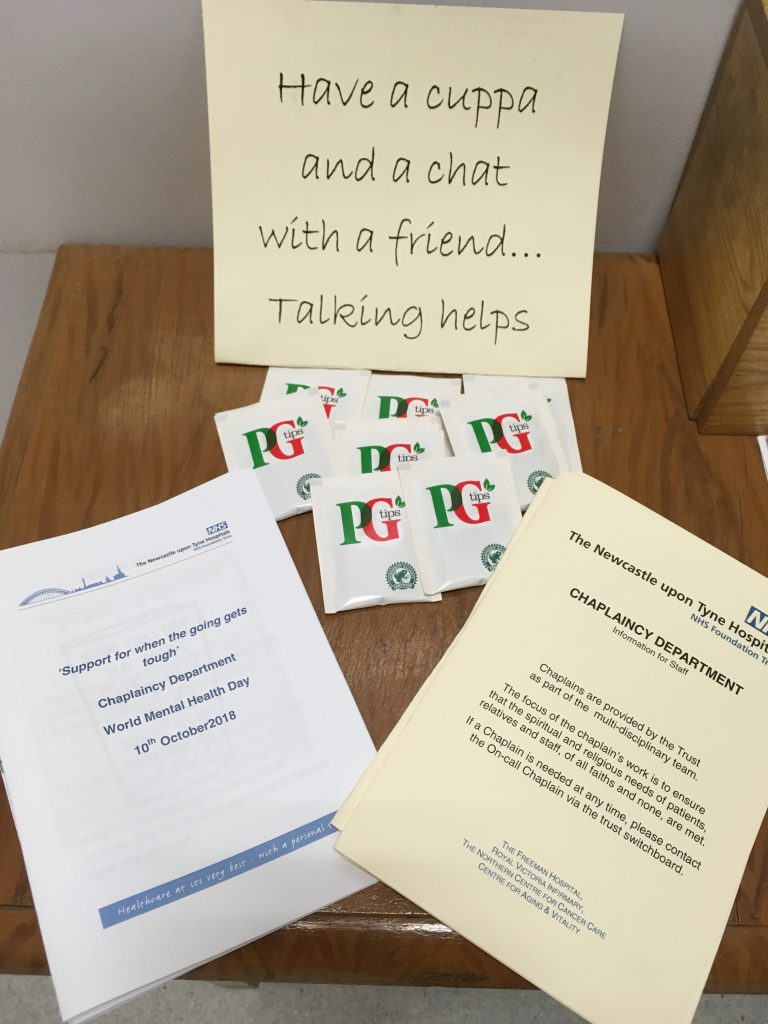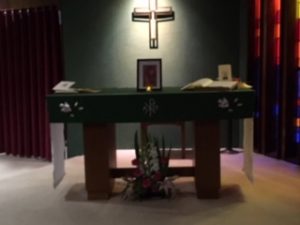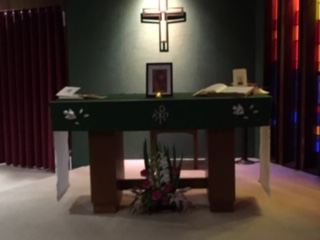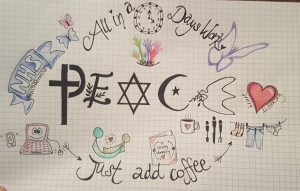 16th-22nd October 2017
This is the first #HCChaplainsWeek. Our members are putting on a range of activities in their workplaces to showcase and raise the profile of the valuable work that healthcare chaplains do. Examples of the types of activity are listed below. Do please show them your support. If you would like to organise an event we can supply a number of resources so please get in touch!
Many thanks to Unite's Norwich Medical Branch who supported #HCChaplainsWeek with a £500 donation.
Some of the events organised for the week follow:
University Hospital Southampton NHS Foundation Trust
The chaplaincy team has reserved the front entrance of the hospital all day on Mon 16th October. They will have displays of chaplaincy work, perhaps a fold up banner, tables with give a ways around a self-care theme with printed labels on for CHCC week (little soaps, moisturisers, teabags etc.). Chaplains will be around all day. There may have a portable labyrinth set out too for people to walk!
Leicester's hospitals
The chaplaincy team are planning information stalls at lunchtimes in the hospital restaurants:
Tues 17th Leicester Royal Infirmary
Thurs 19th Glenfield Hospital
Fri 20th Leicester General Hospital
We will also be tweeting our activities during the week!
Newcastle upon Tyne Hospitals NHS Foundation Trust
The Chaplaincy team has stands booked at both hospital sites. They will be displaying a selection of their work and ministry including Foodbank voucher providers, clothing bank, memory boxes, pets to patients with photos and feedback from Staff, patients and other organisations.
Croydon University Hospital
We have decided to focus on the wonderful work of our Chaplaincy Volunteers in all the different teams: Ward chaplains, Eucharistic ministers, Sunday Chapel volunteers, Chapel musicians and our Hindu, Muslim and Sikh chaplaincy volunteers.  We are holding the followeing events:
Sunday 15th October 10am: Eucharist in Chapel
Monday 16th – Monday 23rd: Exhibition in Chapel
Wednesday 18th October 3pm: Thanksgiving Service in Chapel
Sunday 22nd October 10am: Eucharist in Chapel
Sunday 22nd October 3pm: Launch of the Ark in the Tree
Walsall Healthcare NHS Trust
We will be having a stand in our main atrium at the Manor Hospital on Thursday 19 October, 11am-2pm to promote our service and engage with the public and staff.
NHS Grampian
We will be marking Chaplains Week a week earlier in NHS Grampian.  From the 9th-13th October we are taking over the display boards in the Community Area at the Rotunda Entrance at Aberdeen Royal Infirmary.  We will be highlightly the different aspects of the Chaplain's Role within NHS Grampian, and there will be the opportunity for patients, relatives and staff to have a chat with a chaplain and also to leave feedback.
Milton Keynes University Hospital NHS Foundation Trust
We are putting up a display about the work of the chaplains in the hospital entrance on October 19 and 20. Any material we can use with that would be much appreciated.  We also had a piece in the mailing that goes to all MK churches asking for chaplncy to be mentioned in prayers that week.
Norfolk & Norwich University Hospital
We will be having a stall to raise awareness about the wonderful work that their healthcare chaplains do and provide information on CHCC.  Date Tuesday 17th October 11 – 3, In the West Antrim (near the restaurant).
The Dougie Mac Hospice in Stoke-on-Trent
We will be holding the following:
Article on Spiritual Healthcare in the local newspaper: The Sentinel;
Display in the main reception about the Spiritual Care service;
Education sessions for staff and volunteers entitled, "I'm not religious but…", exploring religion and spirituality;
Daily postings of the Hospice Facebook page.
For the tweeters amongst you or those who would like to start tweeting you can follow the week on Twitter using the hashtag #HCChaplainsWeek.
Some Photos from the 2017 #HCChaplainsWeek:
Supporters of the #HCChaplains Week in 2017 were: