It is with great sadness that we learnt on Monday (19 Apr 21) of the death of Canon Jane after a short illness. Jane established, led and has been at the forefront of Chaplaincy for over 30 years at Poole Hospital. During that time she has provided pastoral and religious support  to thousands, of patients, their families and hospital staff.
She was passionate about the College, chaplaincy and the NHS. She was immensely creative and pioneering in many aspects of our pastoral provision, in particular,  in the area of neo-natal death. She was involved in chaplaincy locally, regionally and nationally and as many of you will be aware, she held the post of President of the College between 2002-2003.
She is survived by her husband Canon Nigel, daughters, Victoria and Charlotte and grandchildren Keira and Ella. She will be remembered and deeply missed by many.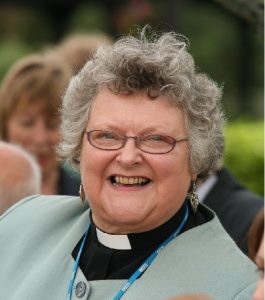 Best regards
Lance Sharpe
Registrar